Shopping Cart
Your Cart is Empty
Thank you for your business!
You should be receiving an order confirmation from Paypal shortly.
Exit Shopping Cart
Please stay safe, wear a mask if you have to go out. My prayers and best wishes go to all!​

K&C Candy Covid 19 Update 6/11/20: With a very heavy heart and many, many tears, I will be closing the shop for all retail sales from June 30th until further notice. Our online store is currently closed with our location at 417 Springfield Avenue in Summit NJ officially closing on June 30th. I'm looking at this as a working hibernation while we create new recipes such as Cherry Cordials and all natural Gummies, at the same time figuring out our new normal. If you would like to keep updated on our progress please follow us on instagram at kandc_candy or text me at 908-209-4131 to keep informed. I cannot thank everyone enough for the honor of serving you and the honor of being your "Best Artisan Chocolatier in Summit. Four years was far too short a time and we are simply another small business casualty of Covid but I hope to return sooner then later with new delights to enjoy! Soo, get your stash of caramels and barks now at the Wine List of Summit! Stay well, stay safe! Much Love and Well wishes until we meet again!

Christine Corrado

Owner of K&C Candy

Please call 908-277-6565 for deliveries of our caramels and barks ​within a 15-mile radius from my shop in Summit, NJ.


K & C Candy​

​417 Springfield Avenue Summit, NJ 07901

*Located within the Wine List & Marketplace*
Every Saturday from 1-4 pm enjoy local hospitality at the shop with food, vino and our chocolates!
417 Springfield Avenue Summit, NJ 07901.
Click Here to Add a Title
We had the wonderful privilege of having award winning Chocolatier, Alisa Cooper-Hay, sample our chocolates, at the NJ Horror and Film Festival, Sept 23rd, 2017, and this was her response.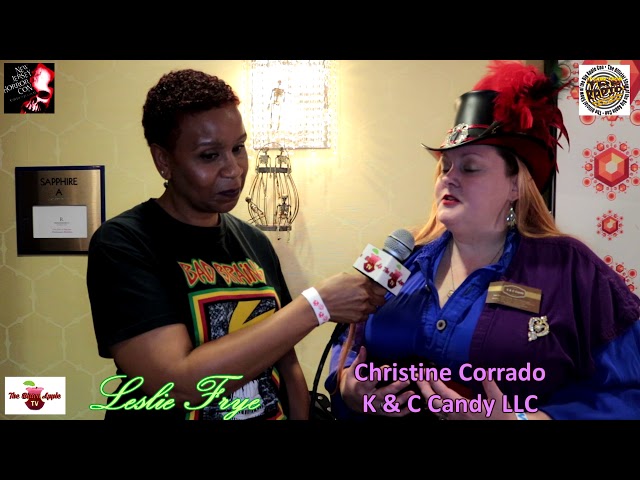 Click Here to Add a Title
Host Leslie Frye aka Sista Slayer from Bitten Apple TV interviewing Christine Corrado, owner of K &C Candy at NJ Horror Con and Film Festival. Sept. 23 2017.
David Della Rocco from "The Boondock Saints."
This candy is so delicious, I want the world to taste it! I was at the horror con and turned out, I was in the right place at the right time! If I have not attended the convention, i never would have discovered such a truly delicious find. These confections are over the top! I have never had a more delicious chocolate. I have been a candy maker for the past 25 years and this is more awesome than the candy I ever made. I am honored to be your customer! Thank you for letting me sample such pure delights! I am absolutely honored!​

The chocolatiers at K&C candy offer the MOST delicious Bon Bon's and truffles ever. My favorites are the Peanut butter, Almond in dark chocolate, Amaretto/Fig in milk chocolate & caramel in milk chocolate. All of the Belgium chocolates are unbelievable across the board!!! One bite and I was hooked.​

Christine's small batch chocolates and caramels are made from high quality ingredients that result in the most delicious artisanal confections. She can customize your order and will ship to your friends, family and corporate business associates across the country if necessary!

Kathleen R.
Midtown West, Manhattan, NY
Typically I stick to the normal Hershey chocolate variety, however after trying a few flavors from here and discovering the amazing taste difference has made it a no brainer to know it's the best.

Ryan Sexton recommends K&C Candy.

Some of the wonderful people who have enjoyed K & C Candy.
National Association of Professional Women (NAPW) is an exclusive network of more than 850,000 professional women that offers unlimited opportunities for members…

Thrilled and proud to be a member of the Suburban Chamber of Commerce!
Thrilled and proud to be a member of the New Jersey LGBT Chamber!
/